Leon Harst has personally spearheaded Haemoband's market development in the Netherlands over the past 10 years; initially as Sigma Medical and then, following the acquisition of this business 6 years ago, as part of the Kebomed Group of Denmark.  Recently Leon and his team in Kebomed Benelux have expanded their representation of Haemoband to include the Belgium and Luxembourg markets.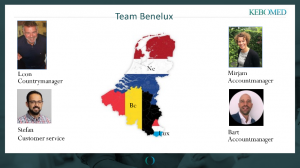 "We are delighted to have secured a new agreement to distribute Haemoband all three countries and with a customer base that covers just about every hospital and clinic in the Benelux region we are confident of being able to grow sales in both the public and private medical sectors" says Leon.
"Having worked with the product for over a decade we know very well the benefits that it delivers for both the clinician and the patient. Clinicians like the fact that Haemoband is easy to use and highly effective. Only recently we had feedback from a senior surgeon who praised the Haemoband Plus product for the strong vacuum it creates, enabling him to work more deeply at the base of the haemorrhoid and as a result to bring more of it into the ligature".
Commenting on Kebomed's expanded distributor territory Michael McMullan, General Manager, Haemoband Surgical said –
"We are delighted to have strengthened our relationship with Kebomed Benelux even further.  Having worked closely together for quite some time both organisations understand each other well.  Leo and the team have consistently delivered good growth for us in the Netherlands market and we are confident that they will now significantly grow our business in Belgium and Luxembourg"
Kemobed Benelux specialise in the distribution of operating theatre materials, x-ray protection, external pacemakers and accessories, gynaecology, cardiology, urology and surgical equipment. While they are close geographically the three markets of the Netherlands, Benelux and Luxembourg differ in that all hospitals are state operated in the Netherlands while there is an extensive private healthcare provision in Belgium and Luxembourg.