Michael McMullan to lead international expansion of business
Haemoband Surgical are pleased to announce the appointment of Michael McMullan to the position of General Manager.  This is a new role and reflects the company's very significant ambitions for the future.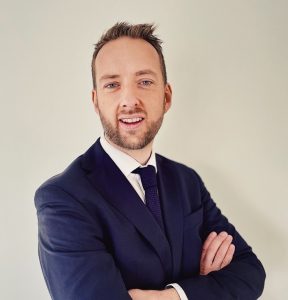 Michael brings a high level of skill and experience to the Haemoband Team.  With a MEng (Hons) in Mechanical and Manufacturing Engineering and an MSc in Business Development and Innovation, he has over 20 years' experience in the Bio-Medical and Medical Devices, Advanced Materials Engineering and Polymers and Rubber Industries.  Previous employers include Waters Corporation, TA Instruments and Enpro Industries and he joins Haemoband from a senior Sales position with Bose.
Announcing Michael's appointment, Essam Gahreeb,  Chairman and creator of the Haemoband said
"Colin Foster, our Managing Director, and I are delighted to have been able to attract someone of Michael's calibre to this new role.  Since the launch of the original Haemoband back in 2005 our market reach has grown steadily through the committed efforts of our small Distribution Network.  We now have a strong senior management team and are ready to grow our Distribution network, and over the next 18 months will be launching a number of very significant new products.  We are confident that Michael has the knowledge and, very importantly the determination, to deliver our international growth ambitions.
Commenting on his new position Michael McMullan said –
"The position of General Manager is a wide and varied with one with responsibility for Operations Management, Quality Systems, Customer Account Management and New Business Development. During my career I have worked across most of Europe, Australia, USA & the Middle East and a major focus for me will be to work with our existing Distributors to support them in building sales in their markets as well as identifying and recruiting new Distributors in key areas where we are not yet represented.
I am delighted to have joined a business with so much potential for growth both in terms of market expansion and the new product portfolio currently in development. Essam and Colin (Foster) have built a very firm basis on which to build growth and I look forward to exceeding their, and my own, expectations"
Email  Michael McMullan <m.mcmullan@haemobandsurgical.com>