On 27-29 July 2022, Haemoband Surgical Ltd along with many global industry leaders, met at the Miami Beach Convention Center, USA for the Florida International Medical Exhibition (FIME) 2022. The leading healthcare tradeshow in the Americas brought together key international industry players and pioneering innovators, with the aim to strengthen business ties with the global medical device and equipment market.
FIME 2022 attracted more than 12,650 visitors, as well as 860+ exhibitors from over 110 countries, delivering a platform for cutting-edge devices, sophisticated medical solutions and a look into the future of the healthcare sector. Through thought-provoking sessions, interactive exhibit halls and numerous business partnerships, attendees connected directly with global leaders and innovators.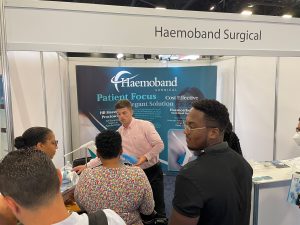 The exhibition gave Haemoband Surgical the opportunity to receive some early feedback from attendees regarding the New HB-SleeveLUX Proctoscope, prior to its official launch later in the Autumn 2022. The HB-SleeveLUX Proctoscope is a single-use, self-illuminating and fully disposable proctoscope for use in the diagnosis and treatment of conditions of the anal canal and lower rectum. Its unique, patented Comfort Sleeve & Locking Technology design allows for enhanced patient comfort and a simpler, more convenient application.
Mr. Michael McMullan, General Manager at Haemoband Surgical stated that, "Attending FIME2022 was the natural next step for Haemoband Surgical as we accelerate our growth and expand our presence in the Americas. We have made some valuable connections here and I am confident attending this event will prove to be the catalyst for our growth in the region."
"In the Americas and globally, there has been significant supply chain disruptions and uncertainty, with unpredictable events and their impacts to business. We at Haemoband Surgical have been able to improve our supply chain resilience during the years of the COVID-19 pandemic and we are now in a strong position going into 2023 to meet our customers' demands both in the Americas and globally."
"As well as strengthening our supply chains, this year we have embarked on a structured plan and well executed transition to full EU MDR 2017/745 regulatory compliance well in advance of the 2024 deadline, with completion expected in 2023. All our customers and end-users can be confident we are fully EU Certified & FDA compliant as we continue to grow now and into the future."